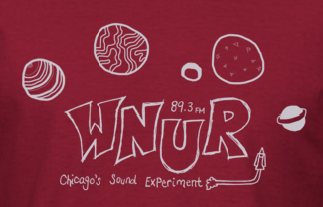 "Conference of the Birds" is my weekly radio program on WNUR-FM. It airs on Tuesdays from 5-7:30 am Chicago time (UTC-). And, of course, when technology cooperates, you can just come here for the archives. You can subscribe to the podcast with this URL (click here to subscribe in iTunes).
I had a lot of fun with this week's show. It helped to have not one, not two, but three folks call because they were interested in music they heard. It really makes this all much more fun when you learn that people are excited about the music.
I also surprised myself with a rare (for the show) house track, in this case from Derrick Carter, but it felt like it fit in pretty well, and in general, I've been worried about the show being stale, so it's good to go out on a limb here and there.
I stayed quite a bit late since Stephen couldn't make his show. The home archiver cuts off at about 7:40, but since one of the callers was interested in "Attica Blues," which was off the end of the normal recording, I extended the automatic archive with an untruncated version of the Art Ensemble of Chicago's "Funky Aeco" and four more songs after which felt like they really fit the way the show went. The Ivo Perelman track is one I don't own, so I couldn't add that to the show, and after that is also where I started to shift into "I've been on the air a long time, so pick mostly familiar and longer tracks" mode. So after Andrew Hill, you have to use your imagination (or the internet…)
Enjoy!
Listen:
download program (185MB, 3 hrs 12 min)
Artist: "Track" – Album (Label)
James Brown: "Top of the Stack" – Soul Pride: the Instrumentals (Polydor)
Jeff Parker: "Days Fly By" – Like-Coping (Delmark)
Tortoise: "Gigantes" – Beacons of Ancestorship (Thrill Jockey)
Derrick Carter: "Do You Believe" – Mo Pschidt (Classic)
Dr. Octagon: "Earth People" – Dr. Octagon (Mo Wax)
Brand New Heavies with Black Sheep: "State of Yo" – Heavy Rhyme Experience, Vol. 1 (Delicious Vinyl)
Kurtis Blow: "The Breaks (Part 1)" – Say It Loud! A Celebration of Black Music in America (Rhino)
KRS-One: "Sound of Da Police" – Hip Hop Sessions: Classics from Hip Hop's Holy Grail (Sessions)
Augustus Pablo/King Tubby: "Barbwire Disaster" – Essential Dub: Ruff Cuts & Hard Riddims from the Mixmaster (Metro)
Powerhouse Sound: "Coxsonne (for Coxsonne Dodd) (Oslo Version)" – Oslo / Chicago : Breaks (Atavistic)
Lucky 7s: "Flyswatter" – Live at the Hungry Brain (Lakefront Digital)
Jorge Ben: "Ponta de Lança Africano (Umbabarauma)" – África Brasil (Philips)
Caetano Veloso: "Eles" – Caetano Veloso (1968) (Phillips)
El Kinto: "Esa Tristeza" – El Kinto (Lion Productions)
Belita Palma: "Manazinha" – Angola 70′s (Vol. 2: 1974-1978) (Buda Musique)
Lucho Bermudez y su Orquesta Sabanera: "Arroz con Coco" – Cartagena! Curro Fuentes & The Big Band Cumbia and Descarga Sound Of Colombia 1962 – 72 (Soundway)
Simon Hlatshwayo: "Ama Crazy Crackers" – Rock Jive Vol 1 (Flat International / Electric Jive)
The Five Blind Boys of Alabama: "In the Wilderness" – Good News, Vol. 4: Glory, Glory Hallelujah (Proper)
The Bosstones: "Mope-itty Mope" – The Doo Wop Box (Rhino)
Art Neville: "Oooh-Whee Baby" – His Specialty Recordings 1956 – 58 (Specialty)
Cyril Neville: "Gossip" – Funky Soul and Rare Grooves (1967-1977) (Rhino)
Johnny Dyani: "Kalahari Lives" – Afrika (Steeplechase)
Nomo: "Discontinued" – Nomo (Ypsilanti Records)
Laurie Anderson: "Sharkey's Night" – Home of the Brave (Warner Bros. Records)
Criolo: "Não Existe Amor Em SP" – The New Brazilian Music, vol. 4 (BMA)
Carlinhos Brown: "Kissangá" – Candombless (Tratore)
DKV Trio: "Chicago: December 29, 2010: Part 2A" – Past Present (Not Two)
John Coltrane: "Part 2: Resolution (live version)" – A Love Supreme: Deluxe Edition (Impulse)
Anthony Braxton: "No. 40B" – Willisau (Quartet) (hat ART)
Art Ensemble of Chicago: "Funky Aeco" – New Thing! (Soul Jazz)
Archie Shepp: "Attica Blues" – Attica Blues (Impulse)
Carla Bley: "Ad Infinitum" – Dinner Music (Watt/ECM)
Arthur Blythe: "Slidin' Through" – Lenox Avenue Breakdown (Koch Jazz)
Andrew Hill: "Hey Hey" – Lift Every Voice (Blue Note)
Ivo Perelman/Matthew Shipp/William Parker: "De Gustibus Non Est Disputandum" – Book of Sound (Leo)
Paul Bley/Evan Parker/Barre Phillips: "Marsh Tides" – Time Will Tell (ECM)
Digital Primitives: "Ol' Blue" – Soul Searchin' (Hopscotch)
Sao Paulo Underground: "Taking Back the Sea is No Easy Task" – Beija Flors Velho E Sujo (Cuneiform Records)
Ernest Dawkins New Horizons Ensemble: "Maghostut" – South Side Street Songs (Silkheart)
Nicole Mitchell's Black Earth Ensemble: "Phases of Subduction" – Intergalactic Beings (FPE)
Eight Bold Souls: "Brown Town" – Last Option (Thrill Jockey)
Klang: "Memories of You" – Other Doors (AllosDocuments)
WNUR Conference of the Birds, 2014-07-22
Play Now
|
Play in Popup
|
Download