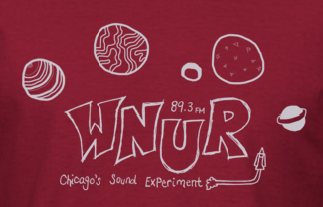 "Conference of the Birds" is my weekly radio program on WNUR-FM. It airs on Tuesdays from 5-7:30 am Chicago time (UTC-). And, of course, when technology cooperates, you can just come here for the archives. You can subscribe to the podcast with this URL (click here to subscribe in iTunes).
This week my friend Manuel came by the show and brought some music, mostly from his home country of Argentina (and some from Uruguay, and some other stuff too.) I got a pretty good set in while he made his way to the station, and then his tracks start up with Cuchi Leguizamón, through some "folk" stuff, into some tango, South American jazz/fusion, and then a couple of tunes by American jazz musicians. I threw him pretty much right in to running the equipment (he was a great sport about it, considering the hour of day), but it was getting a little strenuous, so I took the controls back for the last couple of tunes.
It's always fun to have friends visit, and especially Manuel, who's a musician and an avid listener—but I admit in all the action that I didn't get to listen to his choices that much, so I'm looking forward to going back over this one again.
Enjoy!
Listen:
download program (145MB, 2 hrs 39 min)
Artist: "Track" – Album (Label)
Chico Hamilton: "The Dealer" – The Dealer (Impulse)
Freddie Hubbard & Woody Shaw: "Hub Tones" – Double Take (Blue Note)
Les Vikings: "Ti Tong Ti Tong" – Creole Love Calls: Rythmes Latins Des Antilles (Isma'a)
Getatchew Mekuria & the Ex & Friends: "Ambassel" – Y'Anbessaw Tezeta (Terp)
Super Biton de Segou: "Yèrè Jabô" – Anthology (Kindred Spirits)
Nitty Gritty: "Good Morning Teacher" – King Jammy's Selectors Choice Vol. 1 (VP Music Group)
Harry J All Stars: "The Dog" – Producer Box Set (Trojan)
Willi Williams: "I Man" – Messenger Man (Blood & Fire)
Vincent Martin & His Bahamians: "Uncle Joe, Gimme Mo'" – Bahamas Goombay 1951-1959 (Frémeaux & Associés)
Silvestre Montez Y Sus Guantanameros: "El pajarito" – ¡Gózalo! Bugalú Tropical, Vol. 3 (Vampi Soul)
Roger & the Gypsies: "Pass the Hatchet" – Saturday Night Fish Fry: New Orleans Funk and Soul (Soul Jazz)
Willie West: "Fairchild" – What It Is! Funky Soul And Rare Grooves (1967-1977) (Rhino)
Seu Jorge & Almaz: "Cristina" – Seu Jorge & Almaz (Now-Again Records)
Gilberto Gil/Jorge Ben: "Morre O Burro, Fica o Homen (The Mule Dies, the Man Stays)" – Gil e Jorge (Philips)
Joao Donato: "Samba de Orfeu" – The New Sound Of Brazil (RCA Victor)
Colomach: "Kassa Kpa Sama" – Colomach (Soundway)
Geraldo Pino: "Power to the People" – Heavy Heavy Heavy (RetroAfric)
Cuchi Leguizamón: "Maturana" – En vivo en europa (Página/12)
Mercedes Sosa: "Balderrama" – Hasta la victoria (Philips)
Carlos Aguirre: "Beatriz Durante" – cd Amarillo
Puente Celeste: "Otra vez el mar" – Canciones (self-released)
Orquesta Horacio Salgán: "Don Agustín Bardi" – Una Antologia del Tango (La Razon)
Trio Federico – Berlingieri: "A Orlando Goñi" – Una Antologia del Tango (La Razon)
Eduardo Rovira & Agrupacion de Tango Moderno: "Contrapunteando" – Una Antologia del Tango (La Razon)
Astor Piazzolla: "Suite Troileana- Zita" – Piazzolliana (Ais)
Airto Moreira: "Tombo in 7/4" – Fingers (CTI Records)
Opa: "Mind Projects" – Magic Time (Milestone Records)
Eduardo Mateo: "La Mama Vieja" – Mateo Solo Bien Se Lame (Discos De La Planta)
Invisible: "El anillo del Capitán Beto" – El Jardin de los Presentes (CBS)
Sonny Clark: "Sippin' at Bells" – Cool Struttin' (Blue Note)
Ed Bickert Trio with Dave McKenna: "This Can't Be Love" – Third Floor Richard (Concord)
Jewels & Binoculars: "Visions of Johanna" – The Music of Bob Dylan (Ramboy Recordings)
Herbie Nichols: "45 Degree Angle" – Love, Gloom, Cash, Love (Bethlehem Records)
WNUR Conference of the Birds, 2014-04-29
[ 2:38:38 ]
Play Now
|
Play in Popup
|
Download