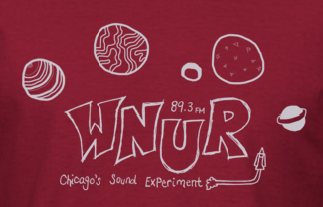 "Conference of the Birds" is my weekly radio program on WNUR-FM. It airs on Tuesdays from 5-7:30 am Chicago time (UTC-6). And, of course, when technology cooperates, you can just come here for the archives. You can subscribe to the podcast with this URL (click here to subscribe in iTunes).
Don't be startled, there's no technical difficulty: this week's show starts with Kathleen's voice—she's the host of K Theory Radio and she ended her show this week with a track that seemed like a natural for Conference of the Birds, so I kept it in the archive.
Otherwise, there may be a bit more of a rock vibe in this week's show than most weeks, but still pretty balanced, I think.
Enjoy!
Listen:
download program (145MB, 2 hrs 38 min)
Artist: "Track" – Album (Label)
Madina: "Ana Mefales" – (Soundcloud)
Arsenio Rodriguez: "Parece Bobo" – La Pachanga (Tico)
Lalo Guerrero y Sus Cinco Lobos: "Chicas Patas Boogie" – Pachuco Boogie (Arhoolie)
Duke Ellington: "Agra" – The Far East Suite (Bluebird)
Makely Ka: "Eu Nao" – The New Brazilian Music Vol. 3 (BM&A)
Ave Sangria: "Geórgia, a carniceira" – Ave Sangria (RCA)
Benny Soebardja and Lizard: "Candle Light" – Those Shocking Shaking Days (Now-Again)
Khalifa Ould Eide & Dimi Mint Abba: "The Tortoise's Song" – Moorish Music From Mauritania (World Circuit)
Quarteto em Cy e Dorival Caymmi: "Canto Do Obá" – Quarteto Em Cy (EMI)
Jorge Ben: "Chove Chuva" – Samba Esquema Novo (Philips)
Mestre Cupijó e Seu Ritmo: "Cade o Anel" – Siriá (Analog Africa)
Jean Paul "El Troglodita": "Everything is Gonna Change" – Back to Peru, v. 2 (Vampisoul)
The Zoo: "Where Have all the Good Times Gone?" – Majestic Coal Chute, vol. 3 (dj bylamplight)
Pink Floyd: "Fearless" – Meddle (EMI)
Sly & the Family Stone: "Never Do Your Woman Wrong" – Dance to the Music (Epic)
Dojo Cuts featuring Roxie Ray: "Mama Told Me" – Dojo Cuts (Record Kicks)
Carolina Chocolate Drops: "You Be Illin'" – Leaving Eden (Nonesuch)
Public Enemy: "Pollywanacraka" – Fear of a Black Planet (Def Jam)
Digital Primitives: "Crackle and Pop" – Hum Crackle & Pop (Hopscotch)
Geraldo Pino & the Heartbeats 72: "On the Spot" – Heavy Heavy Heavy (Retroafric)
Donald Byrd: "Weasil" – Blue Break Beats (Blue Note)
Father's Children: "Linda Movement" – Who's Gonna Save The World (Numero Group)
The Four Sharps: "My Baby" – Shout, Brother, Shout: 1950's R&B From The Legendary Trumpet Records Label (Alligator)
The Famous Blue Jay Singers of Birmingham Alabama: "Jesus Met the Woman at the Well" – Jubilation! Black Gospel, vol. 1 (Rhino)
The Trumpeteers: "Gideon and the Sword" – Good News: 100 Gospel Greats (Proper)
McIntosh County Shouters: "Read 'em, John" – Slave Shout Songs from the Coast of Georgia (Smithsonian Folkways)
Slim Ducket & Pig Norwood: "I Want to Go Where Jesus Is" – How Can I Keep from Singing, v. 1 (Yazoo)
The Avons: "Since I Met You Baby" – Night Train to Nashville: Music City Rhythm & Blues 1945-1970 (Lost Highway)
Headlines: "He's Looking for a Love (Demo)" – Boddie Recording Company: Cleveland, Ohio (Numero Group)
Huey "Piano" Smith: "Little Liza Jane" – Saturday Night Fish Fry: New Orleans Funk and Soul (Soul Jazz)
Fred Anderson/Hamid Drake: "Louisiana Strut" – Back Together Again (Thrill Jockey)
Chico Freeman: "Two over One" – Beyond the Rain (Contemporary)
Barrage Double Trio: "Polarity (dedicated to Andrew Hill)" – Utility Hitter (Quinnah)
Sonny Rollins: "Asiatic Raes" – Newk's Time (Blue Note)
Håkon Kornstad / Håvard Wiik: "John S" – The Bad and the Beautiful (Moserobie)
WNUR Conference of the Birds, 2014-11-11 (complete)
[ 2:38:05 ]
Play Now
|
Play in Popup
|
Download