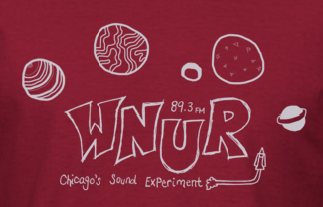 "Conference of the Birds" is my weekly radio program on WNUR-FM. It airs on Tuesdays from 5-7:30 am Chicago time (UTC-6). And, of course, when technology cooperates, you can just come here for the archives. You can subscribe to the podcast with this URL (click here to subscribe in iTunes).
A lot of fun music in this show. No theme in particular, although I did play a little set of "Chicago" tunes to commemorate the municipal election.
I stuck around past my normal show end time, so the playlist below goes beyond the end of the archived audio. The archive fades out shortly after Joe McPhee's "Windy City Head Stompin' Blues" begins.
WNUR's phoneathon is 2/27-3/6. You can pledge online. Your support is appreciated!
Enjoy!
Listen:
download program (146MB, 2Â hrs 39Â min)
Artist: "Track" – Album (Label)
Orchestre Mode Succes: "Je peux attraper hypertension" – Innovation Vol. 4 – Nouveauté (Disques Innovation)
Ariya Afrobeat Arkestra: "Turncoat" – Towards Other Worlds (First Word)
Revolucionnarios: "Mi Bella Panama" – Panama! 2: Latin Sounds, Cumbia Tropical & Calypso Funk on the Isthmus 1967-77 (Soundway)
Andre Williams: "It's Gonna Be Fine in '69" – Checker 1214 – 7″ (Checker)
Arsenio Rodriguez: "Rumba Guajira" – Primitivo (Fania)
International Orchestra Safari Sound: "Usilipuke Kucheka" – Zanzibara 7: Sikinde Vs Ndekule (Buda Musique)
De Malo: "Towuti Brazza Toye Kisasa" – Roots of Rumba Rock: Congo Classics 1953-1955 (Crammed Discs)
Ali Farka Toure: "Allah Uya" – Niafunké (World Circuit)
Maulidi Juma: "Yaatika" – Zanzibara 2: Golden Years Of Mombasa Taarab (Buda Musique)
Aretha Franklin: "Hello Sunshine" – Aretha Now (Atlantic)
James Reese and the Progressions: "Let's Go (It's Summertime)" – The Funky 16 Corners (Stones Throw)
Alamayehu Eshete: "Ambassel (fast)" – Ethiopiques 22: More Vintage (1972-1974) (Buda Musique)
Anon: "Blue Basket" – Cambodian Cassette Archives: Khmer Folk and Pop Music Vol. 1 (Sublime Frequencies)
The Petch Phin Thong Band: "Soul Lam Plearn" – The Sound Of Siam – Leftfield Luk Thung, Jazz & Molam in Thailand 1964-75 (Soundway)
The Anchors & the Creche Kids: "Uyeye (Papa Bull)" – Durban Office Party Part 1 (Electric Jive )
Brothers and Sisters: "Don't Let 'Em Tell You" – Eccentric Soul: The Nickel & Penny Labels (Numero Group)
Pearly Queen: "Quit Jive' In" – Quit Jivin' – A Funk Anthology (Essential Media)
Django Reinhardt: "Chicago" – Chronological Classics 1937 (Classics)
Mozelle Anderson: "Tight in Chicago" – Barrelhouse Mamas Born in the Alley, Raised Up in the Slum Classic Piano Rags, Blues & Stomps from the 1920s & 1930s (Yazoo)
John Wright: "La Salle St. After Hours" – South Side Soul (Prestige)
Oliver Nelson: "Goin' to Chicago Blues" – More Blues and the Abstract Truth (Impulse)
Dr. Isaiah Ross: "Chicago Breakdown" – Takoma Blues (Takoma)
The Sundowners: "Sidewalks of Chicago" – Chicago Country Legends (Bloodshot Records)
Nu Sounds: "Chicago USA" – Spaceship Lullaby (Atavistic / Unheard Music Series)
William Parker Creation Ensemble: "Chicago" – Wood Flute Songs: Anthology/Live 2006-2012 (AUMFidelity)
Air: "Chicago Breakdown" – 80° Below '82 (Antilles)
Sean Bergin's M.O.B.: "Rieb Letsma" – Copy Cat (BV Haast)
Andrew Hill: "Flight 19" – Point of Departure (Blue Note)
Art Blakey and the Jazz Messengers: "Blue Ching" – The Freedom Rider (Blue Note)
Arthur Blythe & David Eyges: "Something Like You" – Today's Blues (CIMP)
Unnamed musicians from Harian Boho: "Gondang Malim" – Music of Indonesia, Vol. 4: Music of Nias and North Sumatra: Hoho, Gendang Karo, Gondang Toba (Smithsonian Folkways)
DKV Trio: "Nickelsdorf 4" – Sound in Motion in Sound (Not Two)
Joe McPhee Contemporary Improvisation Ensemble: "Windy City Head Stompin' Blues" – Underground Railroad (Atavistic/Unheard Music Series)
Fred Anderson: "By Many Names" – Timeless (Delmark)
Rudresh Mahanthappa: "Telugu" – Mother Tongue (Pi Recordings)
Anthony Braxton/David Holland: "You Go to My Head" – Trio and Duet (Sackville/Delmark)
WNUR Conference of the Birds, 2015-02-24
[ 2:38:59 ]
Play Now
|
Play in Popup
|
Download