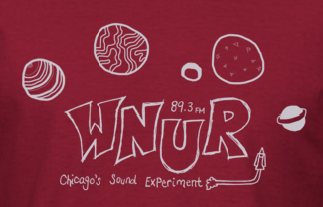 "Conference of the Birds" is my weekly radio program on WNUR-FM. It airs on Tuesdays from 5-7:30 am Chicago time (UTC-6). And, of course, when technology cooperates, you can just come here for the archives. You can subscribe to the podcast with this URL (click here to subscribe in iTunes).
Phoneathon week this week. I pulled out a few greatest hits but also found plenty of new (to the show) good stuff. I tried to keep the pitching to a minimum, but thanks to the listeners who did donate.
WNUR's phoneathon is over, but you can still contribute online, if you're so inclined. Your support is appreciated!
R.I.P. Minnie Miñoso, first black Major Leaguer in Chicago. Tucked in this week's show is a tribute to him from the Numero Group collection "Cult Cargo: Salsa Boricua de Chicago."
Enjoy!
Listen:
download program (146MB, 2Â hrs 40Â min)
Artist: "Track" – Album (Label)
Stanislas Tohon: "Dja, Dja, Dja" – Dans Le Tchink Système (Hot Casa)
Soul Rebels: "Foot Prints" – Let Your Mind Be Free (Mardi Gras Records)
Ray Anderson Trio: "Paucartambo" – Right Down Your Alley (Soul Note)
SDV Swing Band: "Taxi Jive 6 No. 2" – 78 Revolutions per Minute – Majuba Jazz from Mra to Bra, v. 3 (Electric Jive)
The Flaming Souls: "Alex Soul" – She's Gone (Atlantic City)
Neville Nash: "Funky Feeling" – Wind Me Up (Nash)
La Solucion: "Mini Minoso" – Cult Cargo: Salsa Boricua de Chicago (Numero Group)
Viento de Agua: "Las Tarimas (the Stages)" – Materia Prima (Smithsonian Folkways)
O.V. Wright: "A Nickel and a Nail" – The Soul of O.V. Wright (MCA)
Sam Cooke: "Good News" – Keep Movin' On (ABKCO Records)
Rev. Gary Davis: "Little Bitty Baby" – Say No to the Devil (Prestige Bluesville)
Fern Jones: "Didn't It Rain" – The Glory Road (Numero Group)
Bill Monroe: "I Saw the Light" – 20th Century Masters: The Millennium Collection (MCA)
Aubrey Ghent: "Praise Music" – Sacred Steel (Arhoolie)
Meas Samon: "Joi Dondeung Kone Key ("Going to Get Engaged")" – Cambodian Rocks (The Orchard House)
Jorge Barral: "Se Va Muriendo Mi Aldea" – 30 Años de música uruguaya, v. 9 (Sondor)
Foday Musa Suso & Mandingo Griot Society: "Kuumba Sora" – Creative Music Studio: Archive Selections, Vol. 1: World Music (Innova)
Baden Powell: "Consolação" – À Vontade (Universal Sound)
Lena Horne: "As Long as I Live" – Stormy Weather: The Legendary Lena, 1941-58 (Bluebird)
Janelle Monáe: "Tightrope" – The ArchAndroid (Wondaland Arts Society)
Selah Jubilee Singers: "I'll Fly Away" – Selah Jubilee Singers, Vol. 1 (1939-41) (Document)
The Mellows: "I'm Gonna pick Your Teeth With an Icepick" – Golden Oldies (Essential Media)
Charles Iwegbue & His Archibogs: "Salim Ye (Ibo Slow Highlife)" – Azagas & Archibogs: The Sixties Sound of Lagos Highlife (Original Music)
Alport Astazio and the Kwana-Moto Band: "Rugare 2" – Rugare (Inter Africa Records)
Robert Marcel LePage: "Saharinette" – Les clarinettes ont-elles un escalier de secours? (Ambiances Magnétiques)
Joseph Jarman/Don Moye/Johnny Dyani: "Ode to Wilbur Ware" – Black Paladins (Black Saint)
Arthur Blythe: "Down San Diego Way" – Lenox Avenue Breakdown (Columbia)
Steve Lacy/Roswell Rudd Quartet: "Monk's Dream" – School Days (hat ART)
DKV Trio: "Cerkno 2" – Sound in Motion in Sound (Not Two Records)
WNUR Conference of the Birds, 2015-03-03
[ 2:39:58 ]
Play Now
|
Play in Popup
|
Download